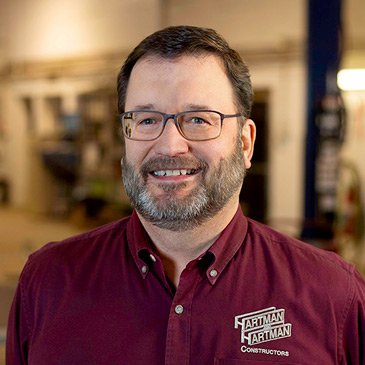 Jay Chapman,
President, Hartman & Hartman
Jay joined Hartman & Hartman as a Project Manager in 1987. But he's been working in construction and related fields since the young age of 13. That early start and hardworking attitude helped him earn a BS in Construction from Bradley University in Peoria, Ill. and served him well as he worked his way up at Hartman & Hartman. His more than 30 years experience with the company led to him being named the president in 2016. He has overseen tremendous growth and expansion but remains focused on leading a profitable business so he is able to give back to the Hartman Family and other people in need. When not in the office or in the field, Jay spends time with his family and is an avid outdoorsman with a love for skiing, hunting, and fishing.
Anthony Domitrovich,
Vice President, Hartman & Hartman
As a young kid, Anthony started working in construction for his father learning hard work, dedication and discipline. With that foundation, he went on to pursue a degree in Electrical Construction. Throughout his career, he worked his way up from apprentice, to journeyman, to foreman, and onward to general manager. In 2009 with over 27 years in the electrical trade, Anthony joined Hartman & Hartman Inc. with a vision to develop both Electrical and Automation Divisions. Since 2009, Hartman has grown to become a local leader in the electrical and automation industry. This is in part due to Hartman's attention to safety and detail on every job. Anthony has since elevated to Vice President as of 2017. Yet, he still oversees the Electrical and Automation Divisions with a commitment to grow and serve our customers utilizing Hartman's core values.